13 October 2021
Hydrogen Europe and EU Hydrogen Valleys strengthen cooperation to foster European hydrogen deployment
Hydrogen Europe and the S3 European Hydrogen Valleys Partnership cement cooperation to speed up the deployment of hydrogen in European regions. The partnership will enhance the development of hydrogen projects and foster economic prosperity across national communities. It is a strong step towards implementing Europe's decarbonization goals while ensuring that all levels of society – local, regional, national and European – are well coordinated in a common effort.
A "hydrogen valley" is a geographical area where several hydrogen applications are combined into an integrated ecosystem that covers the entire value chain: production, storage distribution, and final use. Hydrogen valleys are set to become key hubs of the emerging hydrogen economy and enable the entry of cheaply produced clean hydrogen into the European internal energy market.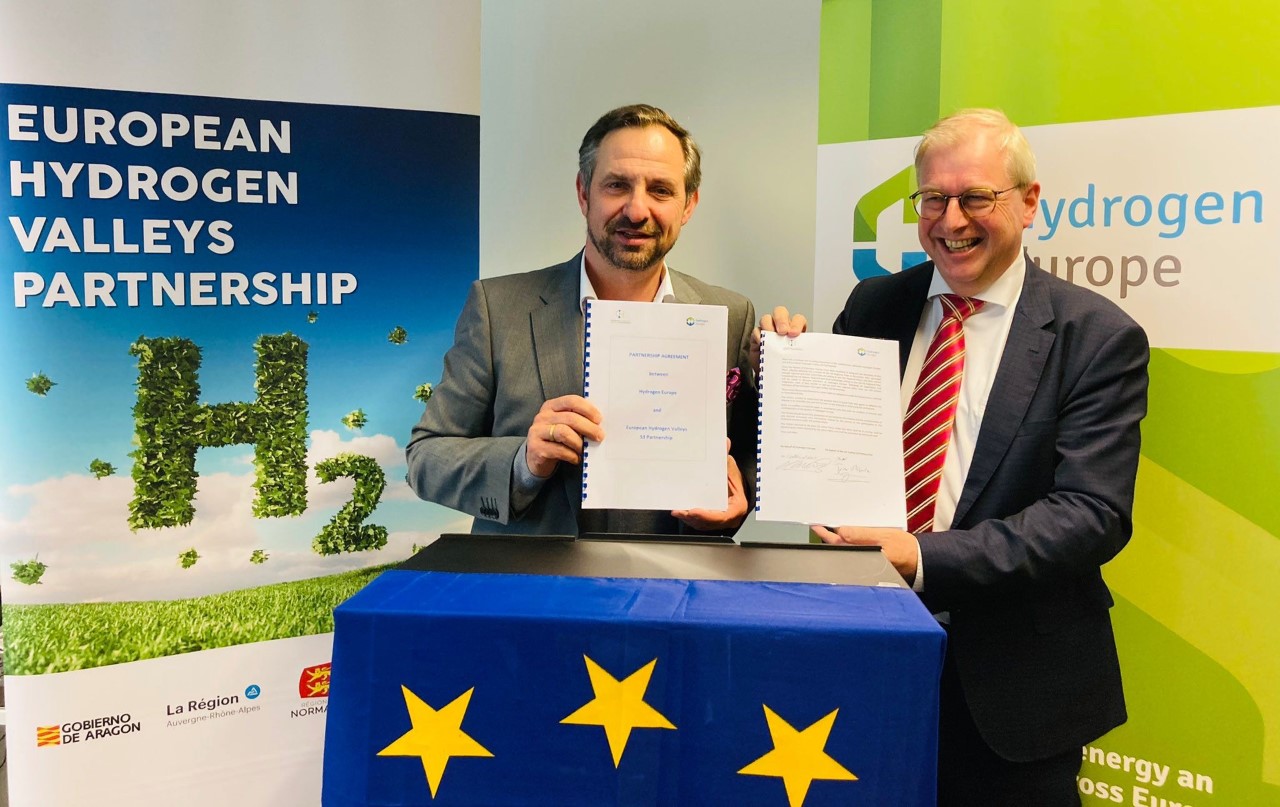 The European Hydrogen Valleys S3 Partnership is represented by the four leading regions: Northern Netherlands (NL), Aragon (ES), Auvergne-Rhône-Alpes (FR), and Normandie (FR).
The cooperation between Hydrogen Europe and the European Hydrogen Valleys V3 Partnership brings the EU one step closer to growing a hydrogen market in Europe and integrating hydrogen into the EU energy mix. It aims to facilitate the investments into the local and regional hydrogen value chain and enhance the deployment of hydrogen technologies that best fit for any given region while ensuring synergies across Europe.
Tjisse Stelpstra, Regional Minister, Province of Drenthe (Northern Netherlands): "This will help us to collaborate more closely in the future with Hydrogen Europe on certain key aspects like project development. This will be possible thanks to the creation of a new Regional Pillar within Hydrogen Europe, which will have its own resources to foster these synergies."
Getting the hydrogen technologies working in European regions is crucial for achieving the EU's 2050 net-zero ambitions and boosting new jobs.
Jorgo Chatzimarkakis, CEO of Hydrogen Europe, commented: "Hydrogen valleys are a critical piece of the hydrogen economy puzzle. Empowering European regions from Aragon to Northern Netherlands is key in strengthening European leadership in hydrogen technologies. Hydrogen valleys will ensure a comfortable transition to a greener energy and foster economic prosperity of EU citizens."